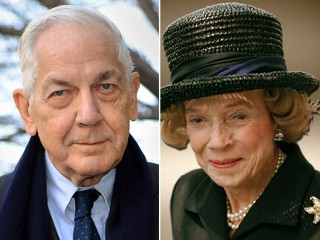 Article by JOHN ELIGON
Post by Shawn Chandok
The son of Brooke Astor, the philanthropist and long-reigning matriarch of New York society, was convicted in Manhattan on Thursday on charges that he defrauded his mother and stole tens of millions of dollars from her as she suffered from Alzheimer's disease in the twilight of her life.
The jury's verdict means that Mrs. Astor's son, Anthony D. Marshall, 85, faces a sentence of at least a year and as many as 25 years. A co-defendant, Francis X. Morrissey Jr., a lawyer who did estate planning for Mrs. Astor, was also convicted of a series of fraud and conspiracy charges, as well as one count of forging Mrs. Astor's signature on an amendment to her will.
The verdict drew the curtain on a long trial that cast an unflattering spotlight on one of New York's first families of high society. Henry Kissinger, Barbara Walters and Annette de la Renta, among others, testified that Mr. Marshall mistreated his mother in her later years and conspired to inflate his inheritance from her estate — largely to appease his wife, Charlene Marshall. Mrs. Astor died in 2007 at age 105.
As the verdict was read, Ms. Marshall sat stone-faced; moments later, while her husband went to meet with a probation officer, she left the courtroom, saying, "I love my husband." She and Mr. Marshall then held hands and ignored requests for comment before being whisked away in a black Town Car.
Click here to read more!