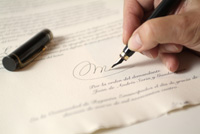 By Laura Reginelli
For many, planning for their deaths seems almost wrong. Nobody plans to die right? Well despite what many may think, planning for what happens after you die is a must. This is where estate planning comes in. According to about.com, "in simple terms estate planning involves both planning for the possibility of mental incapacity and planning for certain death." Estate planning will determine how your accumulated wealth will be divided up amongst your heirs.
There are several various parts to an estate plan. The first and foremost part of your estate plan should be your will. According to CNN Money a will is imperative. A will is "a device that lets you tell the world whom you want to get your assets. Die without one, and the state decides who gets what, without regard to your wishes or your heirs' needs." Furthermore, an estate plan usually contains a living will, letter of last instruction and a power of attorney. Each and every one of these parts ensure that after you die your wishes and intentions are carried out the way you wanted them to.
By creating an estate plan instead of dying intestate (without a will), your accumulated wealth will be passed on to whom you desire. Also, if you have any children, the estate plan will include a named guardian for your dependent. As scary as it is, planning for your estate after you pass away pays.
Sources: http://wills.about.com/od/estateplanning101/a/whatiespl.htm
http://money.cnn.com/magazines/moneymag/money101/lesson21/
http://www.wisegeek.com/what-is-estate-planning.htm